Marine Dredging Specialists
Experience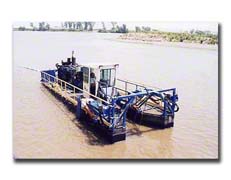 Maritime Coastal Construction has been dredging for nearly 20 years. Different types of dredged material include clay, sand, hard pan, mud, and virtually all types of soils. Geographical diversity and geotechnical knowhow is essential for a dredge project's success. Hydraulic cutter head dredging, clamshell bucket dredging, dragline dredging, or using an excavator, all factor in when determining what type of machine will get the job done effectively and expeditiously.
Environmental Concerns
Maritime Coastal Construction has knowledge of the many variables included with the responsibility of dredging with environmental needs in mind. Endangered species, toxic slurry, fish spawning, etc. are primary concerns when determining all necessary components to a successful dredge project.
Permitting
Working with local and state governments, and The Army Corps of Engineers is an essential part of the dredge permitting process. Hundreds of variables must be met before a dredge permit will be allowed. Maritime Coastal Construction has 25 years of experience in obtaining permits from dozens of agencies, and governments which allows for a more accurate and better over-all job for its customers.
Logistics
Any project, big or small, must be scrutinized for best means of adapting to the uniqueness of the particular site. When problems arise, efficiency can go out the window unless there is a back-up plan which addresses worse-case scenario possibilities. Maritime Coastal Construction anticipates problems which might arise on jobsites and keeps problems to a minimum for better overall job performance.
Mobility
Intracoastal Waterway, sounds, rivers, lakes, and just about body of water that is used for navigation will, sooner or later, need dredging work done. Maritime Coastal Construction has portable dredge machines and barges that can be hauled to just about any location.
Whether you have dredging needs for a large marina or a single slip and canal area, Maritime Coastal Construction can give you thorough help in determining what best suits your needs from the initial permitting phase to the final day of work on the project. Call now for free consultation and estimates.
Maritime Coastal Construction also offers Boat Lift Repair. When boatlifts don't work, you may feel like "A Ship out of Water" so call Maritime builders to repair your lift so that you can continue boating.
Call
910-842-3625
or click for a
Marine Construction
Quote.
---
Maritime Coastal Construction: Serving Ocean Isle Beach, Ocean Isle, Holden Beach, Sunset Beach and Oak Island, North Carolina.